Progress Report: Cat Rotation #3, BAP, Part 1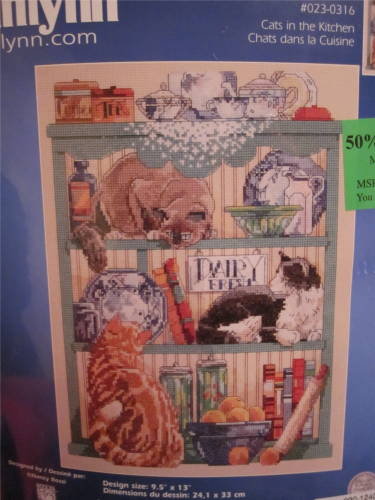 So remember that little thing that I called my Cat Rotation that I talked about a long, long time ago?
It was a complete and utter failure. Which is why this particular article is coming now rather than in February like it was supposed to.
I think I set myself up for failure with a scheduled routine. There was no way I was going to be able to find consistent time to stitch; the week I was supposed to be stitching on this, for example, I didn't end up stitching at all that week. And then I went on vacation and was supposed to take my stitching with me to work on, which I did… but I never once picked up my needle. And then there's the fact that large projects and I don't agree with each other and yeah, this rotation went nowhere fast.
I still work on them from time to time, but I definitely don't have a set schedule anymore. I still consider them my Cat Rotation though!
On to the actual Progress Report!
I decided due to the size of this particular project that I would do it in small sections at a time, and then do all of the back-stitch in that area before moving on. So, this is as far as I got: the back-stitch on the "Dairy" sign in the middle of the kitchen shelf the cats are all sitting on.
I dont' know how many stitches are there. Roughly 100 I'd say? I could be incredibly off, though. It certainly feels like 100 after stitching it all. I love watching the project come together but I'm almost dreading how long it's going to take if this took me months and it was only 100 stitches plus back-stitch…
But I love this project! I will soldier on until it is complete and then become triumphant! The size will not deter me! (Even if it takes me a couple years to finish…)
————————————————————————————–
Progress Report is an update on all my stitching habits, from the kits to the stitching to the finishing process and more! Right now I am featuring a Cat-Themed Rotation of three cat-themed projects, my Wolf Dream Catcher, and a few other piece.