Why I Hate Large Projects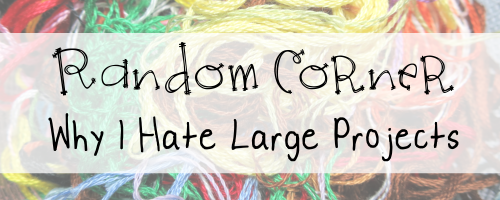 Okay, hate seems like a strong word. It's not that I hate large projects, it's more that I lose my stitchy motivation very, very quickly on projects that are bigger than 5 inches by 7 inches.
I'm 19 years old, but I've been stitching since I was 8 years old. Starting out, the projects I did were small and not very complex. (See Smiley Flower and Love Bug). They were projects one would expect an eight year old to do. As I got older, I got better at stitching, and my ability to take on bigger and more detailed projects grew until I could take on some very large, complex projects if I felt like it.
And yet I don't. My walls are covered in mini finishes and the biggest piece I have completed so far was a stamped 10 in. x 12 in. Corinthians piece that I made as a gift for my boyfriend – but the biggest piece after that is only 5 in. by 7 in. I don't like big pieces, I just don't.
Here are a few of the reasons why:
Time Consuming
One of my biggest problems with large pieces is that they're time consuming. Because larger pieces are allowed to have more detail, the pieces inevitably take up more time: more time to actually make the crosses, more time spent back-stitching, more time spent changing threads, you name it and you're spending on average twice as much time doing it on a larger project than you are on a smaller project. Not to mention having to stop and mark the chart frequently so you don't lose your place!
Slower Progress
This is a big one for me too. I'll explain: say you have two projects. One is a large piece, say 5 x 7 in., and the other is a 2 x 4 in. piece. You do 100 stitches on each project and then stop to compare the progress you've made. 100 stitches is a lot of stitches, right? Odds are, you've nearly completed the 2 x 4 piece. But the 5 x 7 piece? You still have more than three quarters of the project left to go. When I sink two or three hours into doing 100 stitches, and then stop to calculate my project, I find myself getting discouraged that I can do 200 or more stitches in one sitting and still have so much of the project left to go.
Lack of Motivation
I love watching a project come to life. But when I'm faced with spend hours stitching on a large project and getting nowhere, or stitching on a smaller one and seeing the image unfold and feeling as if I'm getting progress done… I lose motivation very quickly for the big projects.
Maybe as I do more projects my stitching bug for large projects will be born and I can work on larger, more intricate projects. Because they do look beautiful. I love looking at bigger projects and seeing all the details and envisioning all the work that was put into making them. But as for me? I might have one or two BAPs going but it'll be years before I can work on them until they're finished, and they'll all turn into UFOs in the process!
How do you feel about large projects? Do you love them? What keeps you motivated? If you're like me, what are some of the things you don't like about large projects? Leave a comment below or join the discussion over at our Facebook page!
—————————————————————————————————–
"Random Corner" is a place for all articles related to all manners of cross-stitchery and the cross-stitch community that don't fall into the topics covered in the regular segments. There is no set schedule for Random Corner articles, they're just random!
By the way – to keep up on Little Thread Crafts stitching news and get pictures, updates, and more that don't appear on the blog until much later, follow me on Facebook, Twitter, and Instagram! I would greatly appreciate it!