Term of the Week: Kit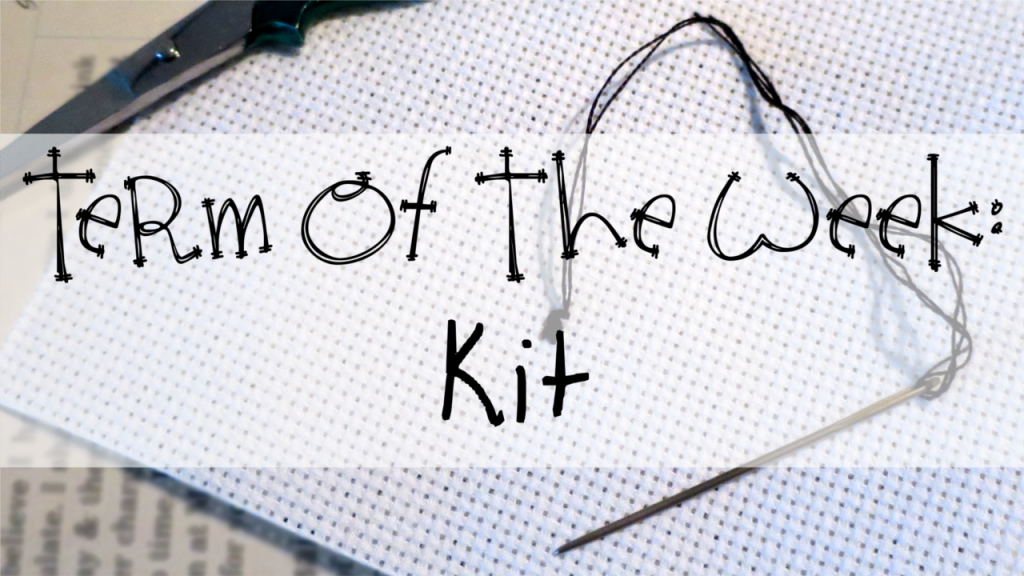 Term of the Week is back, with some brand new terms that every stitcher, beginner to advanced, should know!
The first term we're going over this week is a term you will run across constantly in cross-stitch. The term has evolved to mean several things, and is also used as a noun and a verb!
Noun:
A Kit is a prepackaged cross-stitch supply. A kit comes with a charted design, aida fabric, needle, all the colors of thread you need, and instructions telling you how to get started, how to stitch, and how to finish the project. Depending on the size of the project, sometimes kits even come with sticky backing and a frame to finish the project yourself. Generally those who get started into cross-stitch start with kits, because all the supplies are already there.
Some kits are different than others. You can find kits for cookie jars, pot holders, picture frames, bookmarks, iPhone cases, hanging frames, and many other actual items. Other kits come with the charts and instructions like a kit, but gives you the option to choose fabric and colors.
Verb:
To Kit is a verb used to describe when someone has collected all the materials they need to start a project, such as "I kitted up my HAED last night." Generally, people pick out the fabric they want to use, such as a hand-dyed aida fabric, pick out their colors, wrap them up in bobbins and organize them, pick out their needles, get their hoops or scroll frames or Q-Snaps ready, and get it all put together so they can begin working on the project. It's the same principle as buying an actual kit, which is why they call it "kitting."
The cross-stitch community is evenly divided on their feelings for kits. Some, like me, love kits because you don't have to worry about buying any supplies, and they're perfect for small projects. Others hate kits and will only ever buy charts and leaflets, because there is never enough thread to finish the kit and they don't like having to buy everything, they'd rather pick out fabric and colors themselves.
——————————————————————————
"Term of the Week" is a weekly blog post highlighting a new word or phrase commonly used among cross-stitchers but not found in an ordinary dictionary. These posts are to help explain the words' meanings in context and provide a resource for anyone wondering what a term like "frogging" means. Check back every Thursday!