Term of the Week: HAED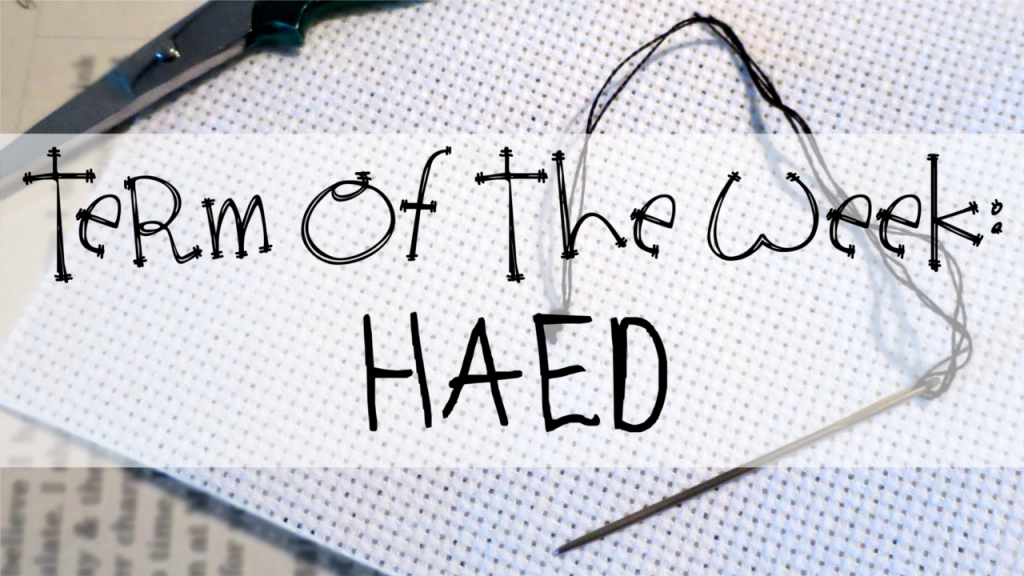 For this week's Term of the Week we head back into our stack of stitchy acronyms and pull out one that is arguably becoming a household name among stitchers.
HAED stands for Heaven And Earth Designs. Heaven and Earth Designs is an online company based out of Seaside, Oregon, USA. They work with local and international artists to turn works of art into cross-stitch pieces. They are known for several things: the size of their projects (HAEDs are known for being enormous, with charts often between 20 and 30 pages long), the types of charts they offer, and the cross-stitch they use to work the designs: all HAED projects are done in full crosses and full crosses only, no back-stitch, french knots, partial stitches, or blended threads.
HAEDs have exploded in popularity since the company's creation in 2002. This is likely due to the number and style of the charts they offer; their website states,
"These are not your grandmother's cross stitch designs, such as cute little bears and standard samplers. We offer you unadulterated cross stitch in its purest and most beautiful form."
HAED charts can be expensive, and they only offer charts, not kits – you must supply everything you need for the project yourself. But the website runs sales frequently and if you get coupons and only buy during sales you can get a number of charts quite cheap. But be warned! Due to the massive size of most of these projects every chart you buy requires a large time investment. If you love large charts and you're up for beautiful projects, then you may want to try an HAED!
I personally have never bought a chart from them, just because large projects aren't my thing, but I have heard nothing but good things about them. Several stitchers consider it a "rite of passage" to stitch an HAED. For myself I'm going to stick to my "grandmother's designs" because they're smaller.
You can find the Heaven and Earth Designs website here: http://heavenandearthdesigns.com/
——————————————————————————
"Term of the Week" is a weekly blog post highlighting a new word or phrase commonly used among cross-stitchers but not found in an ordinary dictionary. These posts are to help explain the words' meanings in context and provide a resource for anyone wondering what a term like "frogging" means. Check back every Thursday!
By the way – to keep up on Little Thread Crafts stitching news and get pictures, updates, and more that don't appear on the blog until much later, follow me on Facebook, Twitter, and Instagram! I would greatly appreciate it!