Progress Report: Cat Rotation #1, I Don't Do Mornings, Part 1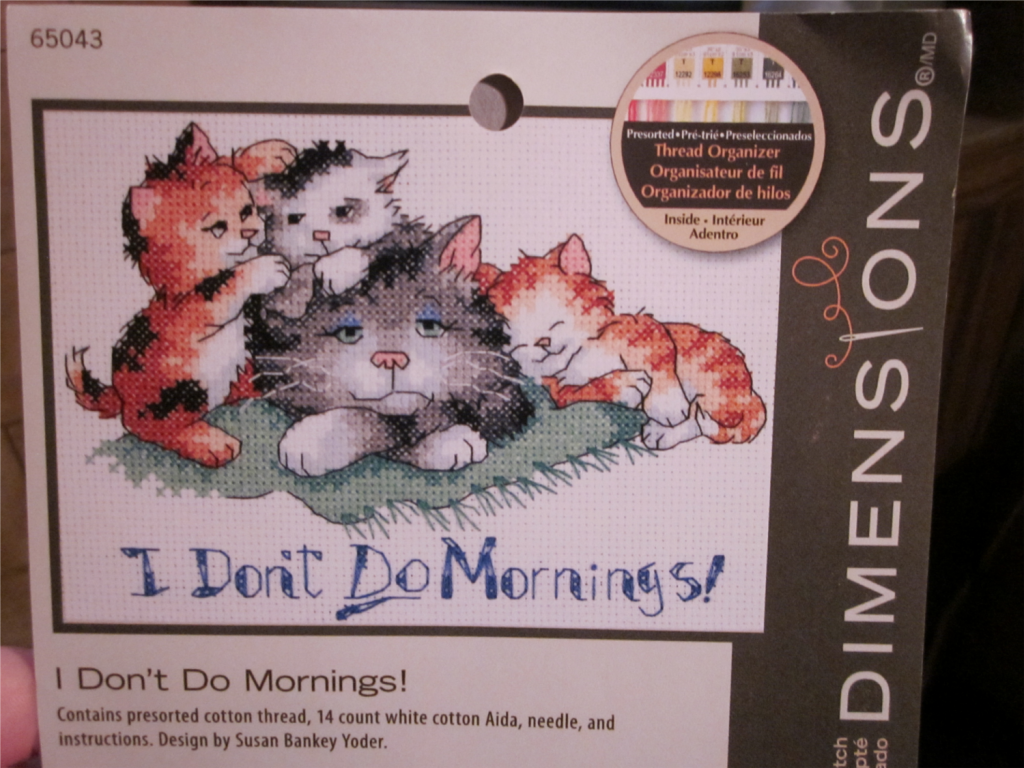 The first piece in my Cat-Themed Rotation is this one, "I Don't Do Mornings" by Dimensions.
I picked up this kit on my first (and so far only) trip to Michael's, where I was determined to walk out with a kit of some kind. I am a cat person so I loved cat-themed projects, and I love the phrasing on this since I'm not a morning person in the least, and one of my cats Shyloh essentially does this every morning once you open your door: climbs all over you chattering saying, "good morning, good morning, good morning!" and demanding love and attention the moment you roll out of bed. So I can definitely relate to this poor mother cat!
Of course, once again I had to start out with white stitches on a white background. I have a hard time with that – it's hard for me to see the white on white aida while I'm stitching and I often miscount because of it, so whenever possible I save the white as the last color for the project. At least when it's surrounded by other colors I don't have to worry about messing up because I can't tell the thread from the fabric. But the project starts with a small section of white, so I started with it and switched to the other colors when I had enough completed. Here is my current progress:
I did most of the stitching on this in a day… it seems like all my time to stitch comes and goes before I have a chance to sit down. I could have done a little bit more on it but I was so busy with school that week I didn't have the chance. I still feel I got quite a bit done, though, and I look forward to working on it again when the next week rolls around. 🙂
You can definitely tell there's a cat there now! Already a good deal of the mother cat is done – I still have to do her ears and feet but other than that she is mostly completed. I am probably going to move on to the red kitten on the right next once the mother cat is all finished, I'm getting tired of all the greys!
————————————————————————————–
Progress Report is an update on all my stitching habits, from the kits to the stitching to the finishing process and more! Right now I am featuring one of my cat-themed projects and several of the mini kits I'm currently working on, along with other pieces I like to pull out and work on at random.
By the way – to keep up on Little Thread Crafts stitching news and get pictures, updates, and more that don't appear on the blog until much later, follow me on Facebook, Twitter, and Instagram! I would greatly appreciate it!