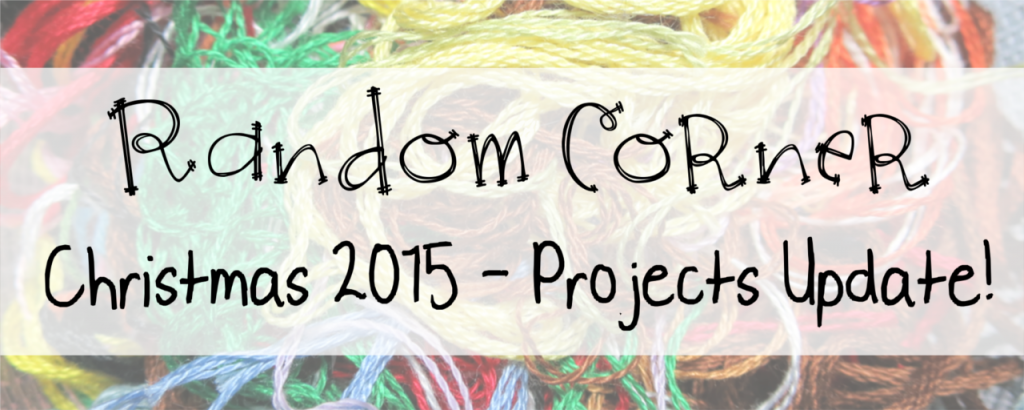 It is December 13th, and we are now 12 days from Christmas! On November 2nd I posted an article called Planning For Christmas, where I went over the 14 Christmas projects I organized as gifts for this year. I started very late because I didn't actually plan on making any Christmas gifts this year. My usual track record is to finish less than half the Christmas presents I start out making.
So! Now that we are 12 days from Christmas, where am I at on my progress?
This is what I started with:
Owl By Janlynn
Mothers Are Special by Janlynn
Rock The 'Stache by Bucilla
Tractor by Janlynn
Home Is Where Your Mom Is by Bucilla
Owl Pillowcases by Janlynn
Home Sweet Home Code by Happy Stitch
HTML Welcome Sign By Happy Stitch
Stop Hatin, Start Bakin by Daily Cross Stitch
Baby Panda by Daily Cross Stitch
Oh Deer by Daily Cross Stitch
Deer Silhouette by Daily Cross Stitch
Keep Calm And Game On by Daily Cross Stitch
Stark Bookmark by Black Lupin (not pictured)
Wow, what a list! Considering last year I decided to stitch four projects and only finished two, this was quite an undertaking! Especially because I started so late. I fully expected that I wouldn't finish half the list, so I planned two projects for each person I decided to make gifts for; if I could finish one for each, I would be happy.
Here is the list so far!
Owl By Janlynn: Finished!
Mothers Are Special by Janlynn: Finished!
Rock The 'Stache by Bucilla: Finished!
Tractor by Janlynn: Finished!
Home Is Where Your Mom Is by Bucilla: Started!
Owl Pillowcases by Janlynn: Abandoned 🙁
Home Sweet Home Code by Happy Stitch: Finished!
– 14. Not Started
So I've finished 5 of the 14 projects as of today. I have #6 and #7 started – except I gave up on the pillowcases again this year. Stamped cross stitch just takes me too long, and I'll run out of steam and not start any of the others unless I give it up and move on. I have projects #8 and #9 kitted up and ready to start, but I haven't started them, nor any of the others on the list.
This is my finished pile, to be washed and framed:
Aaaand this is my pile of Christmas projects that I still need to finish:
12 days to Christmas and I have 8 projects left to finish by December 20th, at the very latest. I doubt I can do it. But hey, I got a lot more done than I've gotten done in years past, so even if I don't finish them all, I'm proud of myself! But wish me luck anyway, I'll need it if I want to finish.
—————————————————————————————————–
"Random Corner" is a place for the articles related to all manners of cross-stitchery and the cross-stitch community that don't fall under the topics covered in the regular segments.

By the way – to keep up on Little Thread Crafts stitching news and get pictures, updates, and more that don't appear on the blog until much later, follow me on Facebook, Twitter, and Instagram! I would greatly appreciate it!