Progress Report: Rock The 'Stache, Start To Finish
Progress Report: Rock The 'Stache
Today's Progress Report is yet another cross stitch piece I made for Christmas. It's one of many mini kits from Bucilla I call Rock The 'Stache, and the pattern is one I adore! I found it cute but also covered a gift idea for one of the men in my life. That can be a rare thing with cross stitch pieces for some reason! The fact it was a mini kit was an added bonus.
I started in the center with the middle word 'The'. Conveniently 'h' took center stage:
The letters in this piece had some quarter stitches. Quarter stitches are my mortal enemy on aida fabric. I hate doing them. But the word 'The' didn't have much, it could have been worse:
And it quickly took a turn for the worse as I started on the word 'Rock', which is the last word on this piece and one filled with quarter stitches:
Here I came to a crossroads. Because of the lettering there is quite a bit of back-stitch to do in this piece. My two choices were: to do the back-stitch on the letters before doing the mustache, or to finish all the normal stitches (or crosses as I find myself constantly wanting to call them) like I normally do before I do any of the back-stitch?
The old habit won out in the end. I finished all the stitches on the mustache:
Now all I had left to do before calling this piece done was finish the back-stitch and the specialty stitches!
Final Progress Report: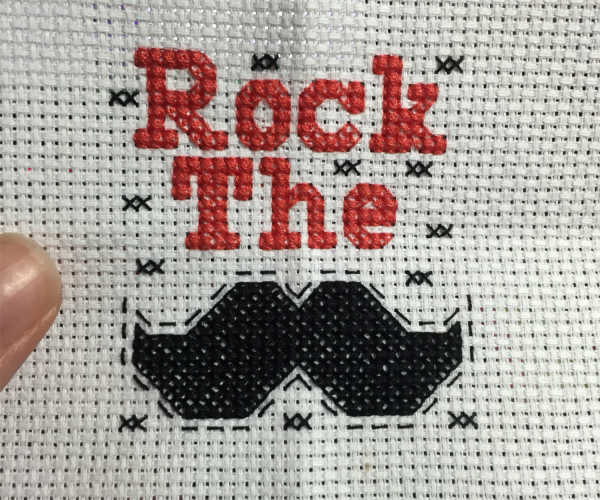 I really love the look of this piece. It's not actually called Rock The 'Stache, I think it's just called Mustache, but I like my name for it better. The back-stitch finished it out beautifully and the random little black stitches look nice. All I had to do to finish was wash and iron, considering the fabric came very stiff with those thick creases you can see! Didn't impact the stitching but it was a pain to get those creases out. After a good wash and iron it was framed and given as a gift, which you'll see in the Friday Finishes article!
Have you done this kit before? Did you enjoying stitching it? Did you stitch it for yourself or give it away to someone else? Leave a comment below or hop on Facebook to let us know!
————————————————————————————–
Progress Report is an update on all my stitching habits: from kits, to stitching, to the finishing process, and more! Right now the blog features a random collection of all my WIPs and UFOs.

By the way – to keep up on Little Thread Crafts stitching news and get pictures, updates, and more that don't appear on the blog until much later, follow me on Facebook, Twitter, and Instagram! I would greatly appreciate it!