The Rules of Cross-Stitch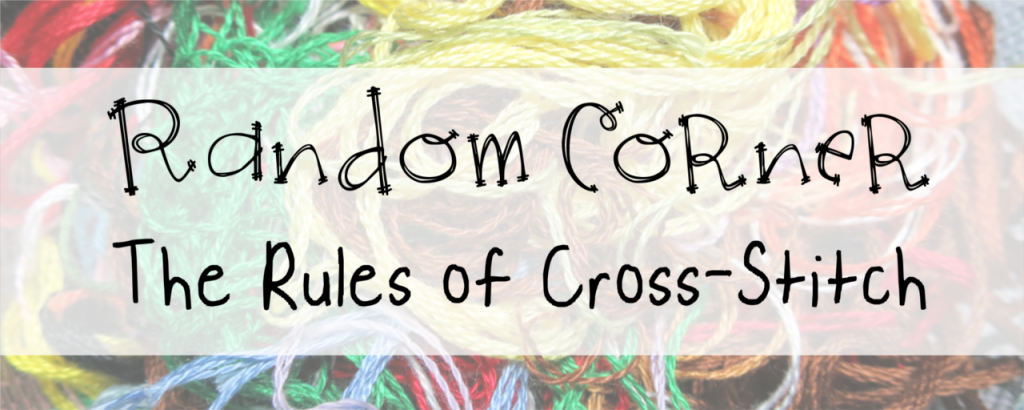 Everyone has their own 'rules' when it comes to cross-stitch. It stems from the fact that more often than not, the community is almost wholly self-taught. When you first start out, the guides and the instructions only tell you the technique you need to learn: come up, come down, make an 'x'. They don't tell you how to do it, just that however you make an 'x' with needle and thread, that's considered a cross-stitch.
For a beginner entering the cross-stitch community, the sudden amount of 'rules' can overwhelm. Backs must be neat, no carrying your thread, no waste knots, stitches must be consistent, work from the center, work from the corner, backstitch last, borders first, etc. etc.. The thing is, everyone will tell you a different set of rules based on what works for them.
The truth of the matter: cross-stitch HAS no rules. None. Despite what others may say about the craft, the ONLY rule of cross-stitch is that your threads must come together to make an 'x', because otherwise it's not cross-stitch. That's it. If you can make an 'x' on fabric, you can cross-stitch, and the personal method you use to create that 'x' can be whatever your heart desires.
I'm here to tell beginner stitchers that these so-called 'rules' are more like guidelines, created from thousands of years of stitchers figuring out what works best for them. (Yes, thousands of years – cross-stitch is considered one of the oldest forms of embroidery on the planet.) The personal guidelines for one stitcher may not work for another, who has developed their own methods and preferences when it comes to stitching.
As for me, my only 'rule' is this: all stitches must go in the same direction. If I start my piece with the bottom stitch / and the top stitch \, then all my stitches must go /\. To me, the finished piece looks cleaner and more uniform that way. This is an extremely common 'rule' that stitchers will tell others because it works and looks the best for the majority of the stitching community. Still, if you don't like to have your stitches going the same way, you don't have to do it.
I also railroad every cross-stitch, and I can tell you for a fact that that's not a rule many others follow. Does it work for me? Yes. Does it work for others? Not always. (Don't know what railroading is? See HERE.)
So don't be overwhelmed when it comes to the 'rules' of the craft. There are no rules. You can pick and choose between thousands of years of work and pick whatever techniques and methods work best for you. Each finished piece is wholly unique to the individual who stitched it, and even if two stitchers followed the exact same guidelines their finished products wouldn't look exactly the same. That is the beauty of the craft.
—————————————————————————————————–
"Random Corner" is a place for all articles related to all manners of cross-stitchery and the cross-stitch community that don't fall into the topics covered in the regular segments. There is no set schedule for Random Corner articles, they're just random!
By the way – to keep up on Little Thread Crafts stitching news and get pictures, updates, and more that don't appear on the blog until much later, follow me on Facebook, Twitter, and Instagram! I would greatly appreciate it!