Term of the Week: OOP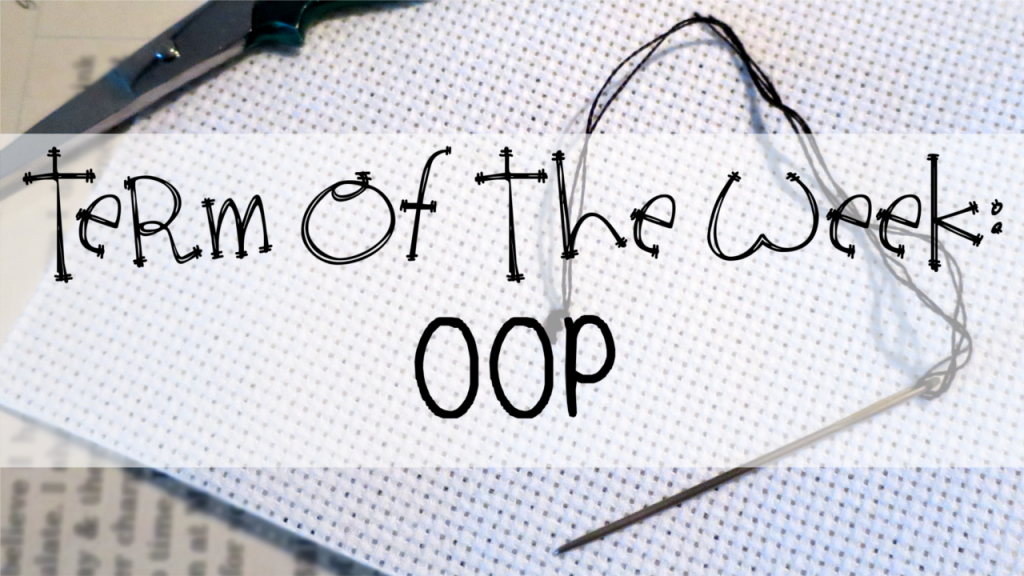 For this week's Term of the Week we're diving into our stitchy acronyms and pulling out another well-known word!
So, OOP – what does it mean? This is mostly used to refer to charts and booklets that are very old or just a bit outdated. Maybe you've seen it on websites when you've tried to purchase a chart or a kit and they were out of stock?
OOP basically just means Out Of Print. Usually these are for old kits and charts that are several years old, the publishing company no longer publishes the chart, or (in some cases) the publishing company went out of business. It can be very difficult to obtain a chart because of it, unless the company still exists and they're willing to send you a replacement copy. (Dimensions is known for doing this; if someone is stitching an OOP chart and something happens to it, Dimensions have been known to go into their records and send that person a copy to replace the one they lost, provided they still have it on record.)
There's a well-known "Why I Cross-Stitch" chart (I think that's what it's called) that's very popular among stitchers. But, it was a limited distribution and the company quickly went out of business for some unknown reason. Due to this, the chart is out of print, or OOP, and it's now extremely rare and hard to find. I remember a conversation where someone said it was going for almost $100 at an auction. People want the chart and they kept bidding it up until it was well over how much the original cost!
——————————————————————————
"Term of the Week" is a weekly blog post highlighting a new word or phrase commonly used among cross-stitchers but not found in an ordinary dictionary. These posts are to help explain the words' meanings in context and provide a resource for anyone wondering what a term like "frogging" means. Check back every Thursday!
By the way – to keep up on Little Thread Crafts stitching news and get pictures, updates, and more that don't appear on the blog until much later, follow me on Facebook, Twitter, and Instagram! I would greatly appreciate it!