Term of the Week: Pinking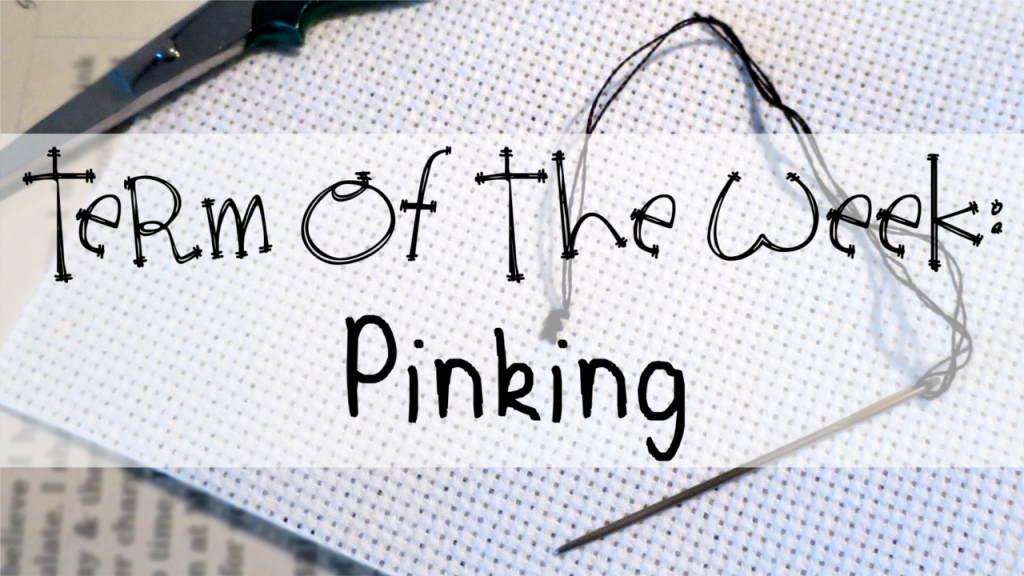 Okay, for real this time, our Term of the Week finally moves away from acronyms into more stitching techniques.
Pinking is actually a technique used throughout a lot of crafts, sewing, embroidery, anything that involves fabric that might easily fray, really.
When someone sits down to begin a project, one of the first steps to prepping for stitching is preventing the edges of the fabric from fraying. That way while they stitch the fabric's not peeling apart or catching on their thread. There are several ways to do this, some popular ones being taping the edges or sewing around the edges. The other popular technique is pinking.
So how exactly are you meant to 'pink' the edges of your fabric? Basically all that's required is a pair of pinking shears. Pinking shears are scissors with jagged, shaped edges used in crafting for putting edging designs on paper, and for fray check on fabric! They can be found in almost every store that sells scissors since they can be used for so many different things.
All that's needed to prevent fraying on aida, linen, and other fabric types is to cut an inch into all four sides of the piece. The jagged design around the edge prevents the fabric from fraying and it will be cut away when the project is being framed, so there won't be any tape to pull off or stitches to remove once the project is finished, with no leftover tape residue if it gets put in storage.
Pinking your fabric does mean that you have to add extra fabric allowance around the edges, however. If you normally give three extra inches for framing purposes, you're going to want to give a couple more to make sure you can remove the jagged edges made by the pinking shears before you frame. Otherwise, it' s a very popular method for preventing aida and other fabrics from fraying!
——————————————————————————
"Term of the Week" is a weekly blog post highlighting a new word or phrase commonly used among cross-stitchers but not found in an ordinary dictionary. These posts are to help explain the words' meanings in context and provide a resource for anyone wondering what a term like "frogging" means. Check back every Thursday!