New Year's Stitchy Resolutions, Year 3, 2015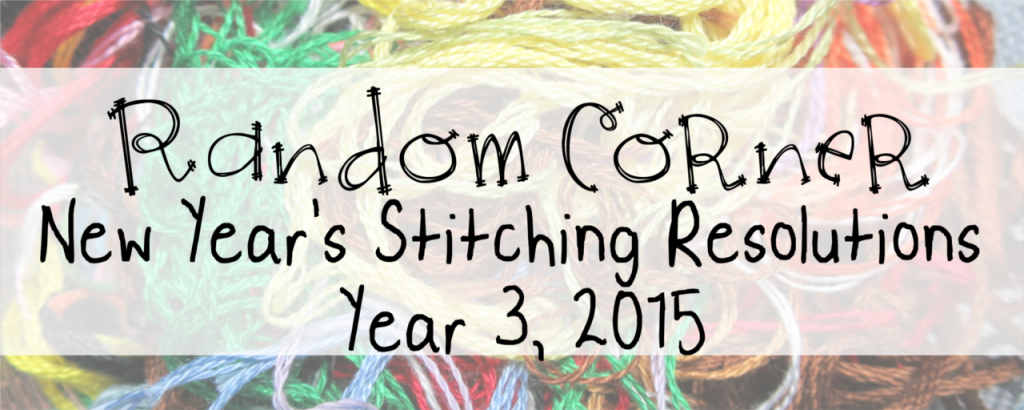 Well folks, the time of year is here again. The New Year is upon us all, and that means it's time for a review of last year's stitching resolutions and to create a new list for 2015. If you would like to read last year's article in its entirety, you can check it out here:
New Year's Stitchy Resolutions, Year 2, 2014
Last Year's Goals:
Complete My UFOs
Complete My Mother's UFOs
Complete the Remaining Christmas Presents
Complete a Large Project
Do a Bear-Themed Rotation
Last Year's Goals in Review
So, how did I do with my stitchy resolutions in 2014? In 2013, I completed two goals, modified one goal, and dropped the remaining two, and I completed ten projects. It wasn't the best track record but I had high hopes for 2014.
All I can say after looking at this list is that I failed all my 2014 goals! I did not complete a single one of my own UFOs, I finished one of my mother's UFOs, I did not end up finishing either of last year's Christmas presents (I even decided not to give one of them at all and start over with something new), nor did I finish a large project or do a bear-themed rotation this year. And in total? I completed four projects in the entirety of 2014. They were all under 5 x 7, so by my book, they were all mini kits.
I'm not discouraged! All that means is my interests throughout the year changed course. I didn't get in nearly as much stitching time as I went back to school and worked two jobs, and I had more fun working on new projects than old ones.
With all that in mind, here is my New Year's Resolutions List for 2015:
This Year's Goals:
Stitch More
Take more time to stitch! My issue with cross-stitch is that I have about a dozen other hobbies all vying for my attention. I'll have the bug, but not the motivation to pick up a needle when I should do something else. Now that I'm off work and out of school, I want to organize my time better so I can balance responsibilities, hobbies, and cross-stitch to do more of the thing I love the most!
Finish 10 or More Projects
When I sat down at the end of the year to examine my stitching progress, I shocked myself by only counting four finished pieces for the entirety of the year! I finished ten projects (of all different sizes) in 2013 and maybe ten or so in 2012 as well. Considering how many mini-kits I have in my set of drawers I should have been able to finish many more. In any case, even if they aren't necessarily current WIPs or UFOs, I hope to finish 10 or more projects in 2015. Whether they're my UFOs or WIPs, my mother's UFOs, or brand new projects, I'll count anything stitched towards the running total. The more things I finish, the better!
Complete a Rotation
I tried a Cat-Themed Rotation in 2013, and it failed miserably. I get so bored working on big projects that I'll go start something new instead of working on something old. So, one of my goals for 2015 will be to complete a Rotation! It'll keep me from getting bored with any one particular project and, if I follow through and finish them, those are finished pieces to add to my finish pile. I don't know what kind of Rotation yet, but I will have one. We'll just have to see whether it fizzles out in the end.
This year I think I will stick with just these three goals. They're simple, they promote stitching, and I think they are all goals I can easily keep. The New Year fills me with so much excitement! I can't wait to discover what the year has in store and get stitching on new projects. Here's to 2015, and we'll revisit this list again in another year!
What are you looking to accomplish with your stitching in 2015?
—————————————————————————————————–
"Random Corner" is a place for all articles related to all manners of cross-stitchery and the cross-stitch community that don't fall into the topics covered in the regular segments. There is no set schedule for Random Corner articles, they're just random!
By the way – to keep up on Little Thread Crafts stitching news and get pictures, updates, and more that don't appear on the blog until much later, follow me on Facebook, Twitter, and Instagram! I would greatly appreciate it!