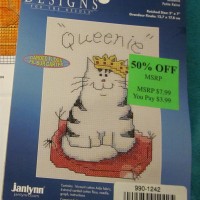 Today's Friday Finishes moves on from my beginner days straight into six years later. Yes, it took me six years from my Love Bug finish to finish another cross-stitch project. What can I say, I was young and easily distracted by the Internet.
Name of Piece: Queenie
Designed by: The kit does not say, it's a hit or miss on whether Janlynn lists the designer on their kits.
Distributed as a kit by the Janlynn Company, under their "Designs for the Needle" series.
Kits Contains: 14 ct. Aida, floss, needle, chart, and instructions.
Finished Size: 5″ x 7″ or 12,7 x 17,8 cm